Bishkek, Kyrgyzstan: Central Asian cargo traffic will now link with Gwadar Port of Pakistan which is the flagship port of One-Belt-One Road (OBOR) project of China through China Pakistan Economic Corridor (CPEC), reports Dispatch News Desk News (DND) News Agency.
According to details, Central Asian cargo traffic will have access to Gwadar Port of Pakistan through Kashgar while bypassing Afghanistan as Uzbekistan is sending its first cargo shipment loaded on trucks to China through Kyrgyzstan,
CPEC route was already link with Tajikistan through Kashgar and Pakistan and China did dry run of CPEC last year from Gwadar Port to Kashgar.
Uzbekistan is sending its first convoy with an export cargo along the new transport corridor which is "Tashkent – Andijan – Osh – Irkeshtam – Kashgar route".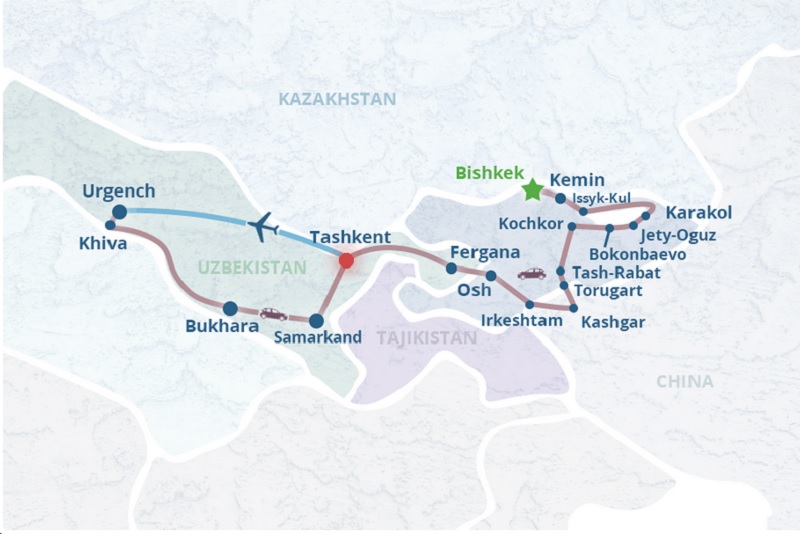 The emergence of a new transport corridor between Uzbekistan, Kyrgyzstan and China was initiated by President Shavkat Mirzieev in May 2017. In October, a pilot car rally was launched with the participation of trucks from Uzbekistan, Kyrgyzstan and China.
The products of exporters of Uzbekistan and neighboring countries will be delivered to the consignees by vehicles of the joint venture. Upon arrival at the final delivery point, the city of Kashgar, the column will depart on the return route already with the imported products.
Islamabad Bureau adds:
"Physically, Pakistan is now directly linked with Kyrgyzstan, Tajikistan and Uzbekistan through two routes diverting at Kashgar (Kashi) while Kyrgyzstan and Uzbekistan are already linked with Kazakhstan through roads and railways", said Agha Iqrar Haroon who is a Development Observer working in the region of Central Asia.
READ
15 school children stabbed in city of Perm in Russia
The distance of a total length of 920 kilometers will be covered in 31 hours in total with 15 hours of rest time for trucks and 16 hours of run.
It is pertinent to mention that CPEC is a flagship project of China's "One Belt One Road" (OBOR) initiative. OBOR will be critical bridge that will connect China with its neighbours in Central Asia and South Asia but will go as far as Middle East and Africa.
By linking China with the Arabian Sea and the Persian Gulf through Pakistan, CPEC will expand trade potential and enhance energy and security presence of China not only in the region but as far as Africa through Gwadar Port of Pakistan.
CPEC can be considered as a package that will boost Chinese, Central Asian and Pakistani economies by providing transport and energy: roads, bridges, gas pipelines, ports, railways, energy plants to Pakistan and a deep regional security mechanism to China while overseeing and manage safekeeping of Chinese assets.
Proposed by Chinese President Xi in 2013, the "One Belt One Road" (OBOR) initiative (program) is an estimated $5 trillion infrastructure spreading over 60-plus countries across Asia, the Middle East, Europe and Africa.
Chinese President considers this initiative as a "project of the century" and a biggest narrative that China is setting as an example in globalization by filling the gaps left by the US policy makers.
The "One Belt" part of it refers to the Silk Road Economic Belt while the "One Road" refers to the 21st-century Maritime Silk Road— a revival of the ancient Silk Road trading routes.
Source: https://dnd.com.pk/pakistan-is-linked-now-with-central-asia-by-road-network-while-bypassing-afghanistan/139428
https://obortunity.org/wp-content/uploads/2018/02/Pakistan-is-linked-now-with-Central-Asia-while-bypassing-Afghanistan.jpg
534
800
Obortunity Info
https://obortunity.org/wp-content/uploads/2017/09/ObortunityLogo-e1508394799669.png
Obortunity Info
2018-02-20 13:41:23
2018-02-20 13:49:52
CPEC is now connected with Central Asia by road network while bypassing Afghanistan